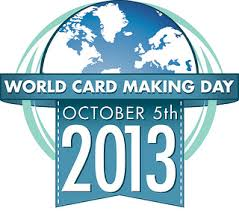 It's World Cardmaking Day! If you're like me and often need a reason to clear your busy schedule to craft, then Stampin' Up! are adding an extra incentive to celebrate today by crafting…
This is what you have to do:
Use Stampin' Up! product to make a card TODAY. Either email a photo of a card, or of you making a card, to wcmd2013@stampinup.com, or post a photo of a card, or of you making a card, on Instagram (mention Stampin' Up! by typing @stampinup and use the hashtag #wcmd2013 in the description).
50 winners from our South Pacific and European markets will be randomly selected and will receive the Naughty and Nice Rotary Stamp and Season of Style Designer Washi Tape (valued at 12,90 €/ £10).
A selection of pictures will be posted to Stampin' Up!'s World Cardmaking Day Pinterest Board as well, so keep an eye on that for extra inspiration to keep you crafting.
This contest is open to EVERYONE, but there is some small print:
You must be over the age of 18 to win a prize. You can enter as many times as you wish, but each entry must feature a different card. Contest will last all day on 5 October, from 12:01 AM to 12:00 PM.
Right – I'm off to craft. Might have to clear up my craft space a bit first though….!